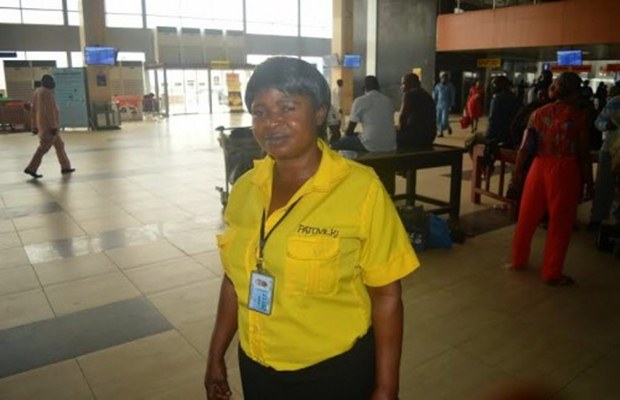 The Murtala Mohammed International Airport cleaner Mrs Josephine Ugwu, who returned N12 million found at the Airport toilet has been honoured by the Police Community Relations Committee attached to the airport.
Presenting a plaque to Ugwu on behalf of the PCRC members, Mr Haminu Makama, the deputy commissioner of police, airport command urged her to continue with her honesty, despite the high rate of unemployment in the country.
Makama, on Thursday, June 25, said the cleaner was honored for her sincerity in a society where many would not return such an amount adding that Mrs. Ugwu behavior would present Nigeria in a good light on the international scene.
The deputy commissioner also urged other Nigerians to act in like manner.
Alhaji Falekulo Lamidi, chairman, PCRC, MMIA division, also appreciated Ugwu.
He said: " Today, we are recognising a honest worker who has displayed great character that is worthy of emulation to others.''
He recalled how robbers raided a bank in Ikorodu forcefully but Ugwu was able to return such huge amount of money.
He continued: "I believe that with what she has done, she should be recognised by all. The money she returned was much, but there are some rewards that are bigger than money.
"PCRC is very impressed with your courageous and honest behaviour and this is worthy of emulation."
Ugwu recalled how she had formerly returned N600,000 and later N3m. She also thanked the PCRC for praising her attitude.
She, however, added that she had yet to received the job promised by FAAN but claimed the employment was still in progress.
Ugwu, a cleaner with a concessionaire of the federal airports authority of Nigeria, Patovilki industrial cleaning found and returned the N12m while on duty on February 16.
Ugwu, who was on a salary of N7, 000 per month as at the time of the incident has attracted nationwide credit for her sincerity.