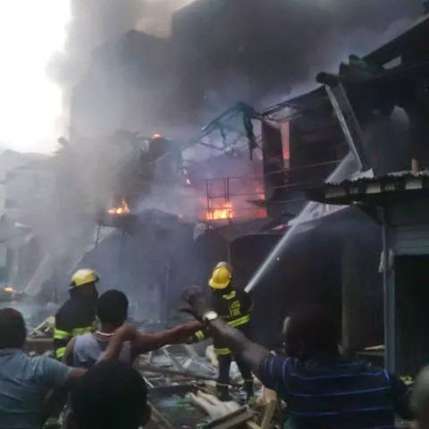 The mother of a two-year-old baby who died in a house where the landlady used to sell fuel has gone mad after she got news that her baby died in the inferno.
The woman, Ajoke Kazeem, and her husband, Yekini Kazeem, prayed for seven years before God blessed them with the little girl called Rasheedat Kazeem.
Rasheedat died after a fuel explosion gutted a building at the Ibafo area of Ogun State. The landlady of the building, where the incident occurred, stores and resella fuel in the house.
The fuel exploded, that fateful day, razing the building to the ground.
The little girl died, while the landlady disappeared.
Tenants and neighbours said they had repeatedly warned her about the danger of selling fuel in such residential area, but she always quarrelled with them.
Ajoke, 32, was said to have gone mad as a result of the shock.
The father of the deceased, Yekini, said their was daughter inside their apartment sleeping when the fire started.
His words: "My daughter was inside the room sleeping.
"She was waiting for someone to come and pick and take her to school.
"We lost all our property, vital documents and money in that fire.
"My wife always leaves very early in the morning to her office on the Lagos Island.
"She used to bath for Rasheedat and place her on the bed to sleep.
"One of the teachers in the school would come and pick when she's going school."
Recalling that horrible day, Yekini added: "On that fateful day, my wife and I had left home very early to our different destinations.
"I was in my office when I received a phone call from our neighbour about the fire incident.
"When I asked the caller about my daughter, he quickly cut off the line and switched off his phone."
Yekini said he got other neighbours to get the news from them.
He however didn't know how to break the news to his wife.
When Ajoke returned in the evening, she saw people gathered in the neighbourhood, discussing the fire incident.
She rushed home, only to be told that her daughter died in the fire.
Yekini said: "Since that day, my wife had been behaving strangely.
"She is still at the hospital where we took her to.
"What pained me most about the death of my daughter was that it took my wife and me seven years before we had that girl."
According to Yekini, as a Muslim, he had resigned himself to fate because there was nothing he could do that would bring back the girl to life.
He however wouldn't mind assistance from well-meaning Nigerians since he lost everything in the fire and spent his savings on his wife's still mounting hospital bill.
Source: The Eagle Online